Best Gifts For Elderly Men And Women
Gifts For Elderly Men And Women
Gift ideas for elderly people are very different from that of younger generations. Their outlook on life, their experiences, and their preferences will definitely impact the type of gifts they want to receive. If you are planning to buy a gift for your grandparents this year, perhaps your grandmother or grandfather, then this article can give you some insights.
Show Love and Respect to Elders Through These Gifts
If you're looking for the perfect present for an elderly loved one, we've got you covered!
1. Amazon Echo Device
This is the best gift for elderly people in terms of convenience and connectivity. It's like having a personal assistant at your disposal 24/7. You can ask the device questions, get news updates, check the weather and even make phone calls. The Echo device can be used as a speaker, which makes it perfect for listening to music or podcasts. The device also comes with a built-in microphone so you can use it for making phone calls too!
2. Portable CD Player
If your elderly loved one loves listening to music on his or her phone, this portable CD player could be the perfect gift! It has all of the features you'd expect from a good CD player—it plays CDs, has headphone jacks for private listening, and even has an AM/FM radio so he or she can listen to their favorite tunes at home without having to worry about batteries running out.
Also Read: Hostess/Host Gifts For Your Holiday Season
3. Weighted Blankets
These blankets are designed to help with back pain, arthritis, and other conditions that could be caused by sleeping positions that aren't ideal for your body type or age group. They come in different sizes and weights so there's something for every body type!
4. Smartwatch
Smartwatches can be used not just as an alarm clock but also have other features like GPS tracking capabilities, blood pressure checker, and even heart rate which make them incredibly useful for elderly folks who may stay at home most of the time. Plus, this can also be a great companion device that tracks their fitness, health, and navigation.
5. Medicine Organizers
Medicine organizers are a great gift for elderly women and men who love to keep organized but also need help remembering what medications they're taking. These organizers help them organize all of their medications in an easy-to-scan way, so they can easily see what's in their medicine cabinet or medicine cabinet drawer.
6. Massage Pillow
Massage pillows are one of the best gifts you can give an elderly woman or man who lives alone because they can help with back pain caused by arthritis or poor posture from years of working! These pillows are incredibly helpful for those who suffer from chronic pain.
7. Single Vision Glasses
These glasses single vision is the most popular gift for an elderly person because they can improve vision and reduce eyestrain. They also come in fun colors, so you don't have to worry about your elderly relative being a boring black-and-white guy or gal. Elderly people often have trouble seeing clearly, which can make it difficult to read or do just about anything else. These glasses are designed specifically for older eyes, so they're comfortable and convenient to wear all day long. They also come with an adjustable strap so you can get the perfect fit for your elderly loved one's face.
Conclusion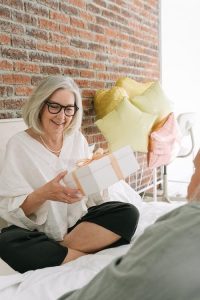 It's hard to buy the perfect gift for someone who's been around for a while. You want to show them how much they're appreciated, but you also don't want their old age or weakness to be stressed out by your gesture. This can be especially tricky when buying gifts online or in a store because no matter how hard you try, you just can't know what they'll like better than they themselves do! That's why it is so important to have some kind of guide available that tells you which kind of gift is suitable for your elderly relative. Hopefully, this article helps you a lot in choosing the best and perfect gift for them!